Villa Raja
A magnificent brand new 3 bedroom villa just 5 minutes from the middle of Ubud. High quality Western standard finish. Enjoy relaxing by the infinity pool overlooking the valley. It is one of the best in the area, spacious, bright and perfect for families.
This stunning three bedroom villa is brand new and has been completed to Western Standards. It is completely enclosed and can be locked up at night.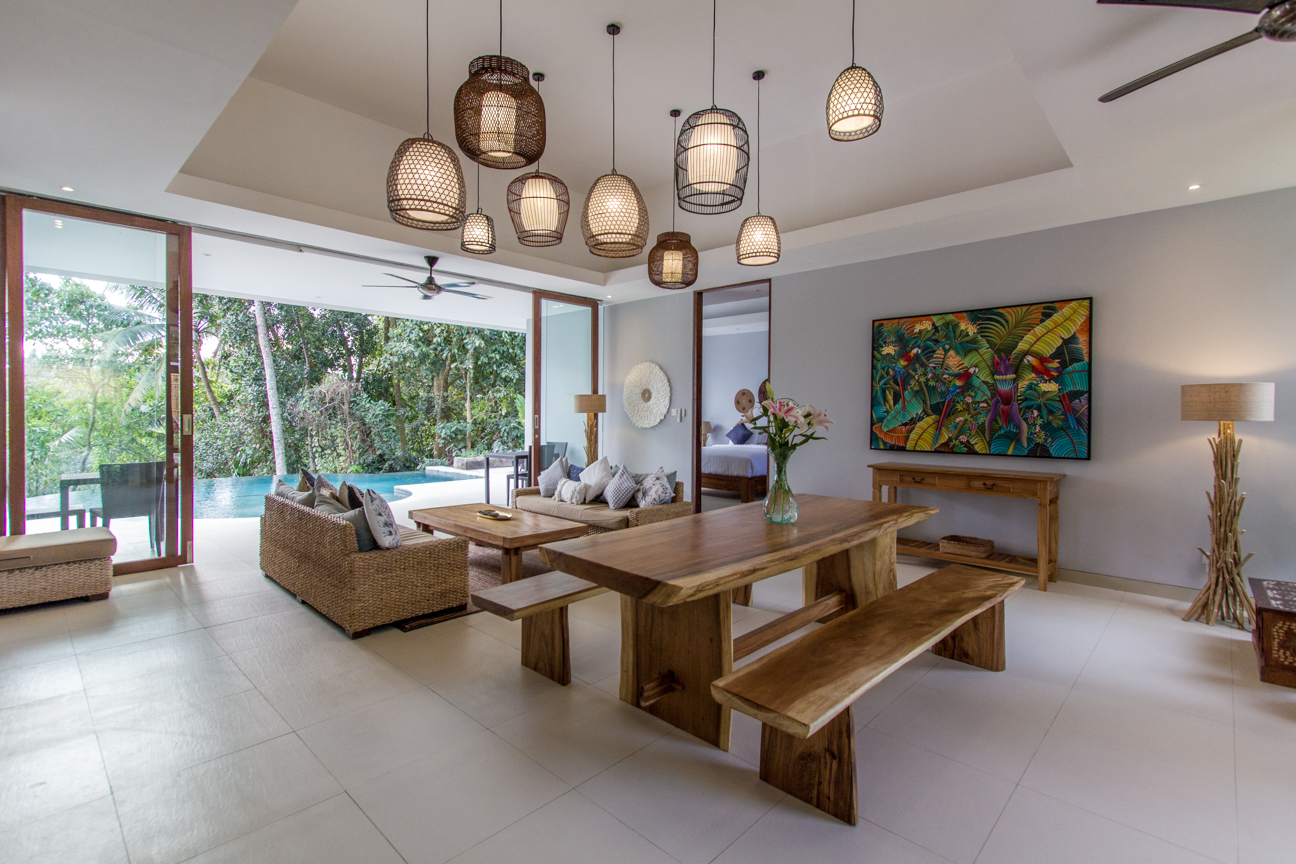 You enter the house through the backyard (which can be locked if you need) where you have a huge tropical garden and grassed area. Perfect for kids as they can run around and enjoy the space. There is also a gorgeous and generous sized yoga mandala in the middle of the yard!
The living area is my favourite place in the house. It is open, breezy and really beautiful. We have a very large 2.5 long Solid wood kitchen table with enough seating for 8-10 people. All the furniture has been handmade and designed exclusively for our villa! There are two large couches which are ideal for relaxing and enjoying the beautiful views of the pool and jungle valley beyond.
In the living area there are lots of cane lights as well as two soft wood lamps for beautiful ambience. There is also a powerful two ceiling fans.
In the afternoon you can enjoy the sunset views over the pool whilst still feeling protected and shaded by the beautiful trees and jungle on the cliff edge.
There is a fully appointed kitchen that includes a gas cooktop, large fridge, hot and cold water dispenser, toaster, kettle and blender. There is also crockery, cutlery and cooking utensils. Our lovely staff arrange for a selection of food available at a small cost incase you don't have time to go to the shops, including beer, chips and fruit.
The pool is truly magnificent and an absolute delight to swim in! We have three different depth levels which are perfect for relaxing or for children to play. The two shortest depths are approximately 40 and 80 cm. Often we have little birds that come and bathe on the infinity edge and occasionally we get a thirsty monkey that comes in for a drink or a chat.
A pool fence is available at an extra charge. We need at least a week's notice as it has to be hired from an external supplier.
There are three spacious bedrooms. Each bedroom has a King size bed, complete with extra pillows and a pillow-top mattress. The bedrooms are fully air-conditioned and all have their own ceiling fan.
MASTER BEDROOM
This room really has the most beautiful view to wake up to each morning. It overlooks the pool and also has a lovely outdoor garden in the well appointed bathroom. It has a Satellite TV with over 40 channels.
Each bedroom also has its own ensuite with beautiful stone basins, local hardwood bench-tops and stunning internal gardens. They really are beautiful. All bathrooms have soft fluffy white towels, bathmats and face washers. The bedrooms have high thread count sheets and a number of different pillows with varying levels of firmness.
BEDROOM TWO is very similar to the Master and enjoys the same divine view of the pool. It has a large bathroom with an internal garden with lots of natural light.
It is possible for us to add up to two extra fold-out single beds to the villa if requested, at an additional cost. Ideally they would go into bedroom one, two or the lounge area. We could fit one in Bedroom 3 but it would be quite tight, however it is possible. There is also an additional port-a-cot available for use as well as a high chair.
BEDROOM THREE opens into a lovely little private courtyard in the front garden. It is bright and airy. It also has a lovely well appointed bathroom that includes a private outdoor garden.
If you let us know in advance we can arrange for a small box of children's toys to be left in this area.
We have ceiling fans all over the house (I don't like the stand up fans as kids put their fingers in them and they are messy) which keeps a lovely breeze blowing through when the wind dies down. To be honest it is a bit cooler up in the valley and out of the township. The house is on the edge of a cliff (steep slope) and we get a beautiful breeze that floats up each morning and afternoon.
Our wifi is currently unlimited 20 Mbps. We get this 'most' of the time, however please be aware that it may drop out occasionally as we are in the jungle. We have also included the Ultimate satellite package for the TV in bedroom one! This includes, Fox, HBO, lots of kids channels and many more. We also have a USB stick available with many other movies that you are welcome to borrow.
You will have access to the entire villa, pool and garden areas. There is a shared parking area for bikes and cars.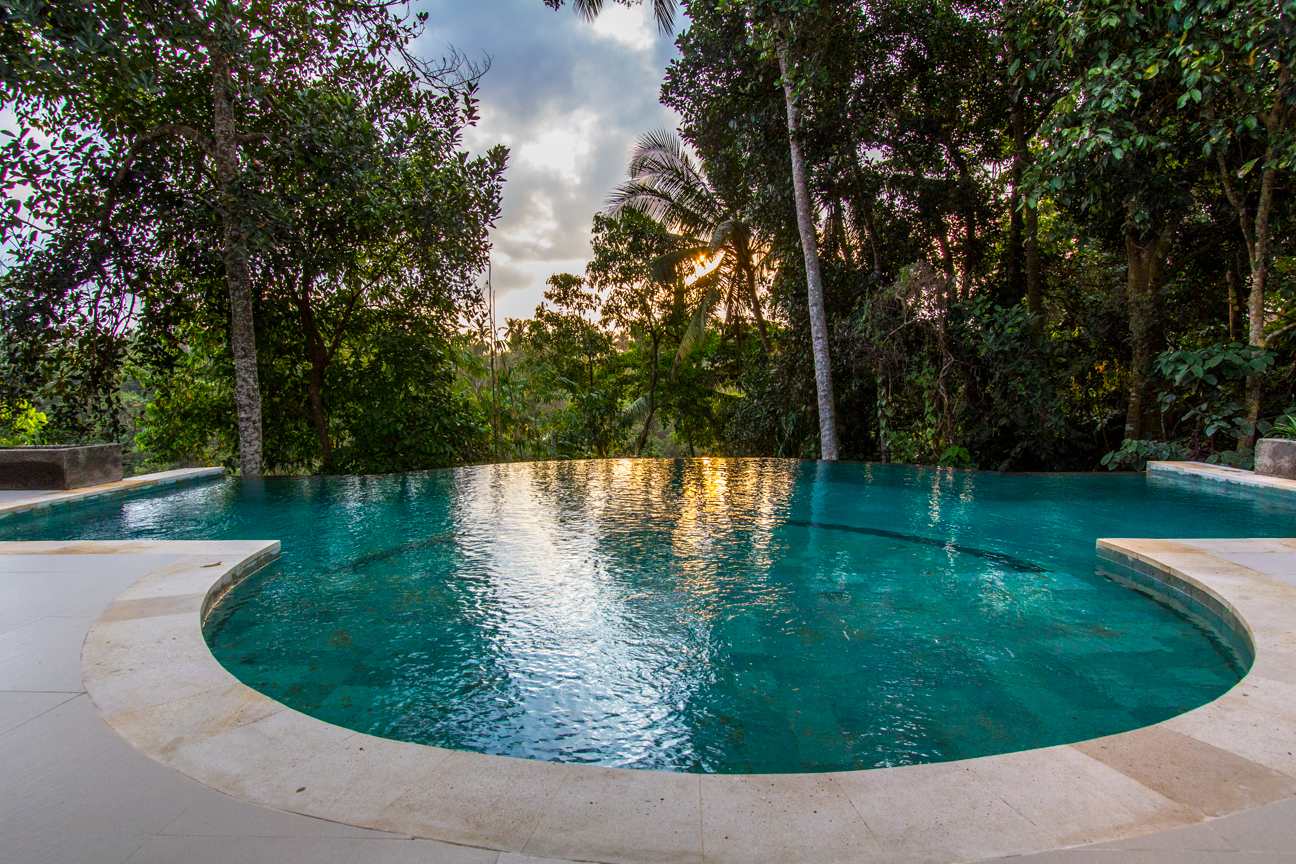 Cinta will be available via phone 100% of the time. The villa also has a local mobile phone available for use and you can use this to call Cinta if you need. We also have housekeepers and garden/pool staff available everyday.
We have two other villas available next door.
During Peak Season We include a breakfast hamper each day that has bread, butter and condiments as well as eggs and fruit. Many of our guests prefer to enjoy breakfast on their own however if you would like one of our lovely staff members to come in and prepare the eggs and fruit then please let Cinta know a full day in advance. However if you don't want any help to prepare breakfast, someone will still come in during the day to tidy up which gives you more time to relax and enjoy our beautiful villa!