Villa Bumi
A simply stunning Luxury Cliff-Side Jungle 2 bedroom villa just 5 minutes from the middle of Ubud. High quality Western standard finish. Enjoy relaxing by the infinity pool overlooking the valley. It is one of the best in the area, spacious, bright and perfect for families.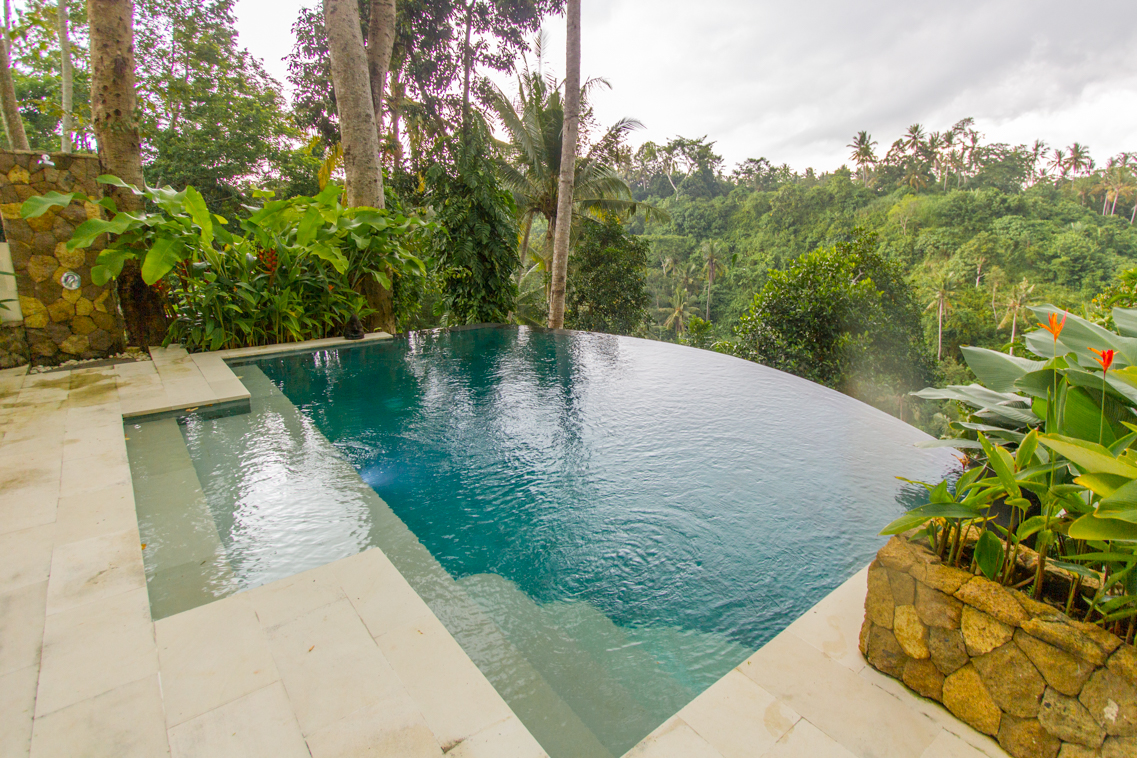 This stunning villa is brand new and has been completed to Western Standards. It is completely enclosed and can be locked up at night.
You will enter the house through the backyard (which can be locked if you need) where you have a lovely little garden, grassed area and a sunken trampoline. Perfect for kids as they can run around and enjoy the space, safely jumping on and off the trampoline whenever they want.
The upstairs lounge is a comfortable and warm area which is not common in Bali. The large American couch is really comfortable and great to lay on and watch movies at night. This room is air-conditioned but we rarely use it as it has really high ceilings and is quite cool. There are two large desks as well as good internet access. Our wifi is currently unlimited 10 Mbps. We get this 'most' of the time, however please be aware that it may drop out occasionally.
The two bedrooms are next to each other and perfect for families as they are large, spacious and joined by a relaxing air-conditioned lounge.
BEDROOM ONE
The Master bedroom is lovely, it is large, spacious and air-conditioned. We have a super comfortable Super King size bed (2m x 2m) as well as a little couch and a baby cot. The views from bed in the morning are spectacular. The ensuite has been covered from wall to wall in beautiful stone and has duel marble basins and an outdoor rain shower. The bathroom is lockable (only the shower is outside) and also includes a wardrobe.
BEDROOM TWO
The second bedroom has a very comfortable queen size bed (comfy beds can be hard to find in Bali!), air conditioning and also has a shelf of books and toys for kids. The bathroom is very similar to the Master Ensuite, except this one also includes a beautiful hand polished terrazzo bathtub.
Both Bathrooms have large fluffy white towels, bathmats and face washers. The bedrooms have 300 – 400 thread count sheets and a number of different pillows with varying levels of firmness.
Off the upstairs lounge are the two bedrooms which are then connected again via the large veranda. This veranda is just gorgeous. We often sit out here in the mornings and watch the birds fly down the valley (they fly back up again in the evening around 5:30pm) We also have a large clear space for the kids to play or for yoga (we have 4 mats).
DOWNSTAIRS
The Kitchen, Dining and Loungeroom downstairs is really the most beautiful space. It is very light, bright and spacious. The kitchen is a full Western kitchen complete with a 3-burner gas cooktop and an electric oven (another rarity in Bali) and a full size fridge. We have loads of appliances, crockery and kitchenware.
There is a little powder room off the dining area which has a beautiful sink made from a fossilised tree. There is an outdoor shower with hot and cold water near the pool if you want to rinse off after a swim.
The lounge area is my favourite place in the house. There are toys, bikes and games for the kids and a large modular couch that you can move around to suite your needs. The views are superb and change as the day goes by.
The pool is spectacular and one of the best I have seen in Bali. It has a large stepped area where kids can play quite happily and safely. There is a ledge on the infinity side where you can stand and enjoy the view. Often we have little birds that come and bathe on the infinity edge and occasionally we get a thirsty monkey that comes in for a drink.
A pool fence is available at an extra charge. We need at least a week's notice.
The whole area is just lovely and very relaxing. We lived in this house for most of the year and it is perfectly set up for young families. Often we choose to spend the whole weekend at home with the kids rather than going into town as it is just such a nice place to stay.
There are ceiling fans all over the house (I don't like the stand up fans as kids put their fingers in them and they are messy) which keeps a lovely breeze blowing through when the wind dies down. To be honest it is a bit cooler up in the valley and out of the township. The house is on the edge of a cliff (steep slope) and we get a beautiful breeze that floats up each morning and afternoon.
NOTE: If we are booked out for the dates you would like, please check out our other villa https://www.airbnb.com/rooms/9520006. It is located right next door and has the same amazing views!
You will have access to the whole house with exception of the laundry/storage room. Our house keeper will be available to you for a few hours 6 days a week (Monday – Saturday) and she is able to take your clothes to a local laundry (one large bag costs around $7-10) if required.
There will also be a portion of the build-in-robes in each of the bedrooms that will be locked.
Cinta Jen will be available via email and online. Cinta usually meets everyone at the house and will happily arrange a car for you to pick you up from the airport or other accomodation. She will show you around the house and answer any questions you might have while in Bali.

Our housekeepers come every morning. If you would like you villa cleaned at a particular time please discuss this with Cinta when you arrive.
If you have any queries before you arrive then Jen is available online to answer them. Cinta is always available via whats app as well. Once you have booked we can give you a phone number to use.

At the end of our driveway there is a bike company that has tours all over Bali. They can drive you up to Mt Batur and then you can cycle back. They can also arrange other tours (rafting, quad bikes etc). Cinta can help with anything you might need while you are on the island.
If you choose to rent a car or motor scooter you are welcome to use the car park in front of the villa. Please note there is only space for one car per villa and a maximum of 4 motorbikes. There is potentially more space but you need to confirm with Cinta as the area is shared with the villa next door.
We have two other villas next door.